Our panel discussion on Youth & Politics - Trailer

by Marc Withut Gisela-Gymnasium, München/Germany on 2020-04-07
---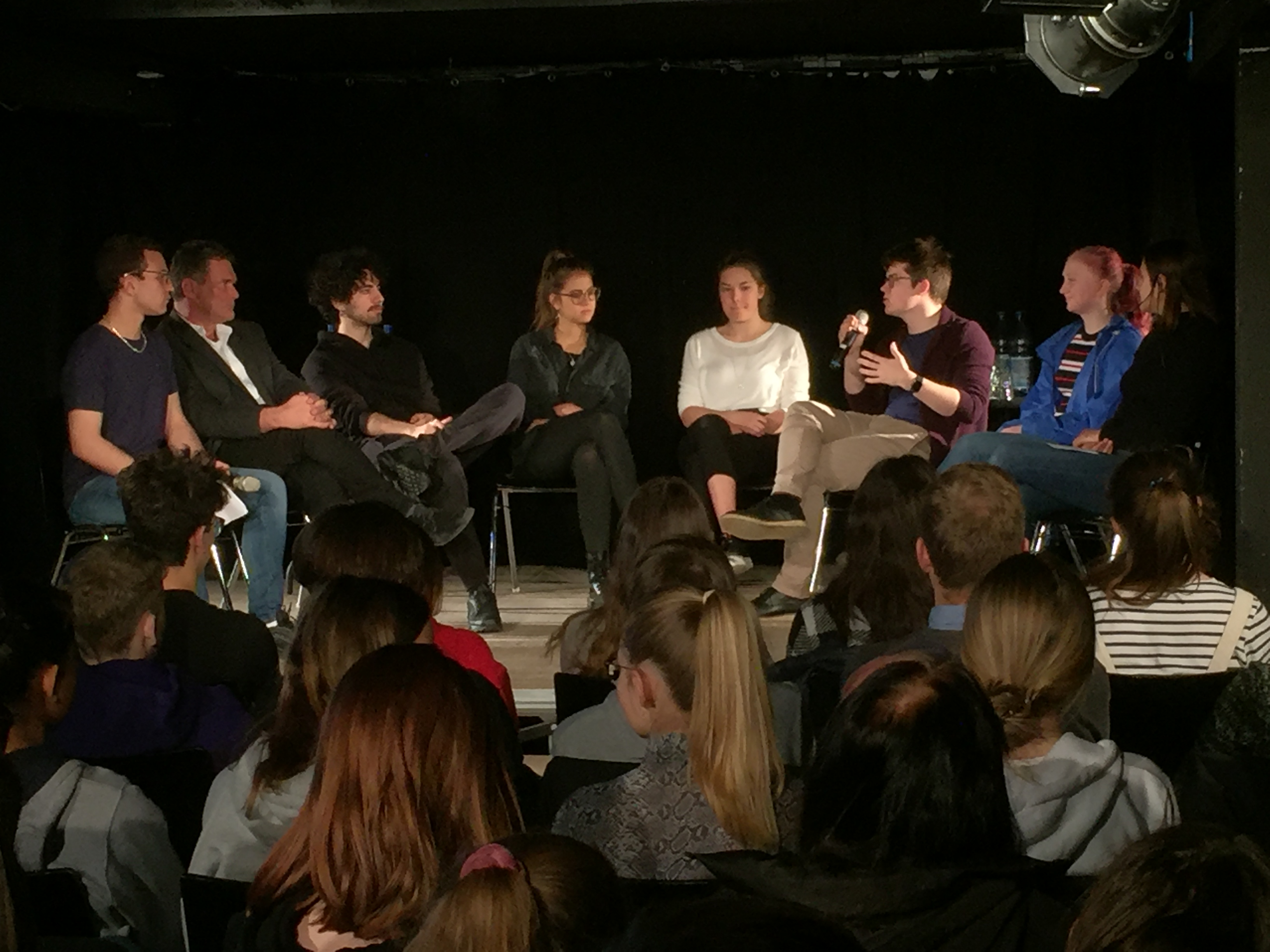 ---
- Text in English and German -
trait d'union TV | Playlist n° 10 | Trailer
After 2018/19, this school year trait d'union and the k25-Theater of the Gisela Gymnasium in Munich are joining forces for the second time in a cooperation project, this time under the general topic "What moves young people and what do they move around the year 2020?"
The kick-off was once again a three-day workshop in which the students were trained by experienced experts in the field of journalism. We invited Angela Roethe and Dr. Cornelia von Schelling from the online newspaper of creative seniors eigenleben.jetzt (nominated for the Grimme Online Award 2019), who gave coaching on the subject of interviews, Noah Sari, freelancer for ARTE, who reported on his career as a journalist, and Manuele Deho, managing director of glasfilm, who explained the basic rules and practical tips for creating video reports to the students.
The event concluded on 6 March 2020 with a panel discussion on the question "Youth & Politics. Is there something possible? What can be achieved?", to which six guests were invited, who were able to report on the political commitment of young people from very different perspectives. A video on this discussion, as well as on the workshop itself, will soon be available in playlist n° 10 of trait d`union TV. In order to bridge the waiting time, there is already a trailer.
- - - - - - - - - - - - - - - - - - - - - - - - - - - - - -
Nach 2018/19 finden sich in diesem Schuljahr trait d'union und das k25-Theater des Gisela-Gymnasiums in München bereits zum zweiten Mal zu einem Kooperationsprojekt zusammen, diesmal unter dem Rahmenthema "Was bewegt und was bewegen junge Leute rund um das Jahr 2020?"
Zum Auftakt gab es auch diesmal einen dreitägigen Workshop, bei dem die Schülerinnen und Schüler von erfahrenen Experten im Bereich des Journalismus geschult wurden. Von uns eingeladen waren Angela Roethe und Dr. Cornelia von Schelling von der für den Grimme Online Award 2019 nominierten Onlinezeitung kreativer Senioren eigenleben.jetzt, die ein Coaching zum Thema Interview gaben, Noah Sari, freier Mitarbeiter bei ARTE, der über seinen Werdegang zum Journalisten berichtete, und Manuele Deho, Geschäftsführer von glasfilm, der den Schülern die Grundregeln und praktische Tipps zum Erstellen von Video-Reportagen näherbrachte.
Den Abschluss bildete am 6. März 2020 eine Podiumsdiskussion über die Frage "Jugend & Politik. Geht was? Was geht?", zu der sechs Gäste geladen waren, die aus ganz unterschiedlichen Perspektiven über politisches Engagement von Jugendlichen berichten konnten. Zu dieser Diskussion, wie auch zum Workshop an sich, wird es in der Playlist Nr. 10 von trait d'union TV bald jeweils ein Video zu sehen geben. Um die Wartezeit zu überbrücken, gibt es jetzt schon mal den dazugehörigen Trailer.