Corona: impact on domestic violence

by Katharina Ortner (2002) Gisela-Gymnasium, München/Germany on 2020-05-24
---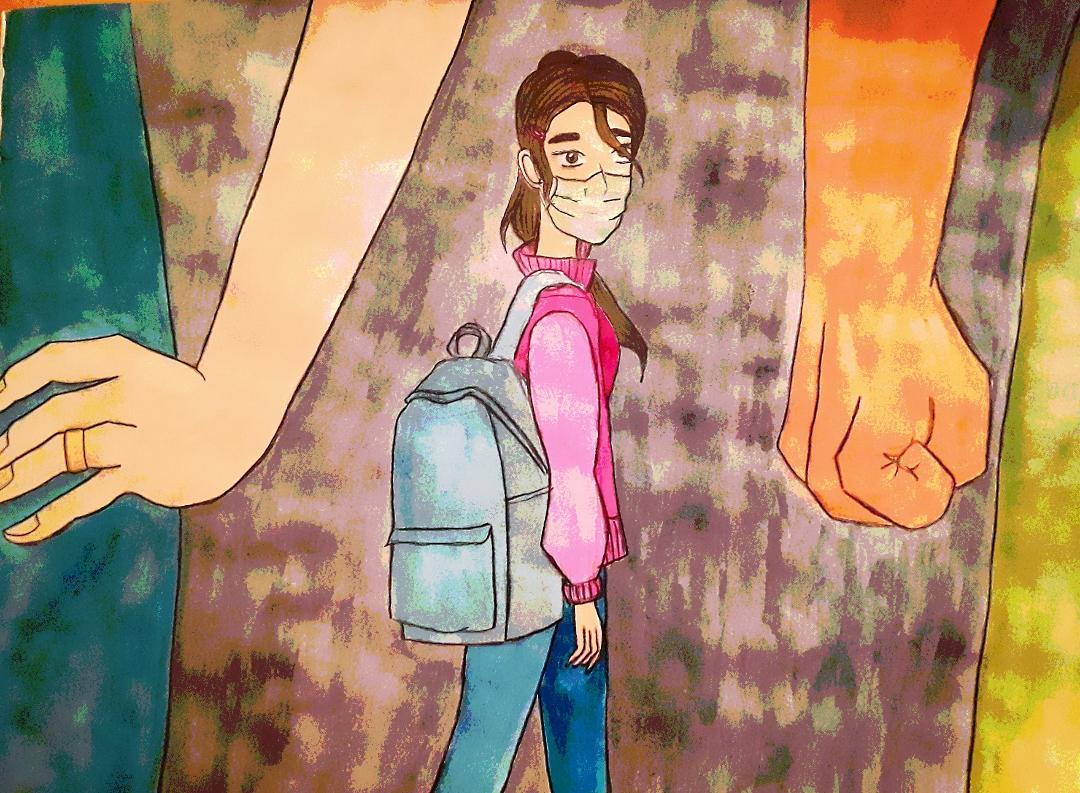 ---
The frontispiece was created in two versions by Katharina's schoolmate Anabel Kahlhammer (*2002). The following article was originally written in English. To read the German translation, please, scroll down.
The young ladies from Munich would be very happy to receive your comments. If you are a trait d`union editor, you may use the comment and discussion function next to the article. Otherwise you can send your comment to contributions@traitdunion.online. There you can also send your own ideas and contributions to this frame topic: "Corona - when disaster strikes in our lives: what young people think about the pandemic and its consequences." You can find suggestions on topics and forms of presentation here.
What consequences do contact restrictions and curfews have on the problem of domestic violence?
In the wake of the current Covid-19 Pandemic, people all over the world have to stay at home. In some countries, like Italy, India and Spain, the measures taken have been especially far-reaching.
Being cooped up in your house with your family can be annoying, because you can't just give each other space when things get heated. Doors are slammed and things are said, that aren't meant the way they are delivered. But such harmless skirmishes are the least of the problems many women, children and men face, now that they are forced to stay inside with their parents or spouses, their potential abusers.
The threat of domestic violence rising is not something that immediately crossed my mind when the "Safe at Home"-policy was instigated back in March. What brought it to my attention in the end, was the news, more specifically the "Tagesschau": the segment showed exasperated social workers obviously afraid for many of the young children they look after. For many of these children, the youth center was a necessary escape from poverty, violence and abuse back home. It provided a safe place to stay, relax eat, as well as people they could trust and talk to. Now, with the pandemic, this escape is closed to them and they have to deal with the trouble at home by themselves. Many teenagers, especially girls, thus have become homeless, preferring the streets over the threat of violence at home.
That children have to choose between having a place to stay and staying unhurt is appalling, especially in a country like Germany, where such things seem impossible. It seems that way but it isn't. In the wake of the Virus, there will be many children hurt and scarred, emotionally, psychologically and physically. My heart hurts for them, because they are among some of the biggest losers of this crisis. The most vulnerable among us, who now suffer in silence, because there is nowhere else to go. Horrors like sexual abuse won't be forgotten and dealt with as soon as people are allowed back on the street. No, scars like that take time to heal. I believe the effects of Corona will be felt in numerous ways, that aren't obvious yet and it will be our companion for many years to come. Corona has made many hard truths painfully obvious and brought to the light many "unsavory" topics that are usually swept under the rug. The only thing we can do now is hope that we learn from the pandemic; not just survive it, but actively face the existing social evils and try to make the world more hospitable than it was before.
The ongoing Covid-19 Pandemic is in no way the root of the problem, nor is it a new one, but the current situation, that affects predominantly women, is likely to cause tensions to rise and individual situations to worsen.
I sincerely hope that the things that made us angry and that we learned will not be forgotten, but that we actively go about changing them with the same urgency many felt to hoard toilet paper and noodles in the last few weeks.
Welche Auswirkungen haben Kontaktbeschränkungen und Ausgangssperren auf das Problem der Gewalt in den Familien?
Im Zuge der aktuellen Co-Vid-19-Pandemie müssen Menschen auf der ganzen Welt zu Hause bleiben. In einigen Ländern, wie Italien, Indien und Spanien, wurden besonders weitreichende Maßnahmen ergriffen.
Es kann ärgerlich sein, mit seiner Familie in seinem Haus eingeschlossen zu sein, denn man kann sich nicht einfach gegenseitig Raum geben, wenn es heiß hergeht. Türen werden zugeschlagen und Dinge gesagt, die nicht so gemeint sind, wie sie gesagt werden. Aber solche harmlosen Scharmützel sind das geringste der Probleme, mit denen viele Frauen, Kinder und Männer konfrontiert sind, jetzt, da sie gezwungen sind, mit ihren Eltern oder Ehepartnern, ihren potentiellen Peinigern, drinnen zu bleiben.
Die Gefahr, dass häusliche Gewalt zunehmen könnte, kam mir nicht sofort in den Sinn, als im März die "Safe at Home"-Politik ins Leben gerufen wurde. Was mich am Ende darauf aufmerksam machte, waren die Nachrichten, genauer gesagt die "Tagesschau": Ein Beitrag zeigte verzweifelte Sozialarbeiter, die offensichtlich Angst um viele der kleinen Kinder hatten, die sie betreuen. Für viele dieser Kinder war zuvor das Jugendzentrum ein notwendiger Ausweg aus Armut, Gewalt und Missbrauch zu Hause. Es bot einen sicheren Ort zum Bleiben, zum Entspannen, zum Essen sowie Menschen, denen sie vertrauen und mit denen sie reden konnten. Jetzt, mit der Pandemie, ist ihnen diese Zuflucht verwehrt und sie müssen mit dem Ärger zu Hause allein zurechtkommen. Viele Teenager, vor allem Mädchen, sind dadurch obdachlos geworden und ziehen die Straße der Gewaltandrohung zu Hause vor.
Es ist erschreckend, dass Kinder sich zwischen einer Bleibe einerseits und körperlicher wie geistiger Unversehrtheit andererseits entscheiden müssen, vor allem in einem Land wie Deutschland, wo solche Dinge doch unmöglich erscheinen. Es scheint so, aber es ist nicht so. Auch nachdem das Corona-Virus besiegt ist, wird es viele Kinder geben, die mit dem, was sie während der Pandemie erlitten haben, leben müssen. Ihr Schicksal bereitet mir die größten Sorgen, denn sie gehören zu den größten Verlierern dieser Krise. Die Verwundbarsten unter uns, die jetzt im Stillen leiden, weil sie nirgendwo anders hingehen können. Die Schrecken, die sexueller Missbrauch mit sich bringt, werden nicht einfach verschwinden, sobald die Menschen wieder auf die Straße gelassen werden. Nein, Verletzungen wie diese brauchen Zeit, um zu heilen, falls das denn überhaupt möglich ist. Ich glaube, die Auswirkungen von Corona werden auf zahlreiche Weisen spürbar sein, die noch nicht offensichtlich sind, und sie werden uns noch viele Jahre lang begleiten. Corona hat viele harte Wahrheiten schmerzhaft deutlich gemacht und viele "unappetitliche" Themen ans Licht gebracht, die normalerweise unter den Teppich gekehrt werden. Das Einzige, was wir jetzt tun können, ist zu hoffen, dass wir aus der Pandemie lernen – nicht nur sie zu überleben, sondern dass wir die bestehenden sozialen Übel aktiv angehen und versuchen, die Welt zu einem besseren Lebensraum für alle zu machen.
Die Corona Pandemie ist sicherlich nicht der Grund, dass häusliche Gewalt, vor allem an Frauen, existiert, jedoch führt die Ausgangssperre dazu, dass die Situation oft noch bedrohlicher wird.
Ich hoffe aufrichtig, dass die Dinge, die uns wütend gemacht und die wir gelernt haben, nicht vergessen werden, sondern dass wir aktiv daran arbeiten, sie mindestens mit der gleichen Dringlichkeit zu ändern, mit der viele in den letzten Wochen Toilettenpapier und Nudeln gehortet haben.