Let´s talk Pride!

by Arezu Lehner (2003) Alumna/Alumnus on 2022-03-20
---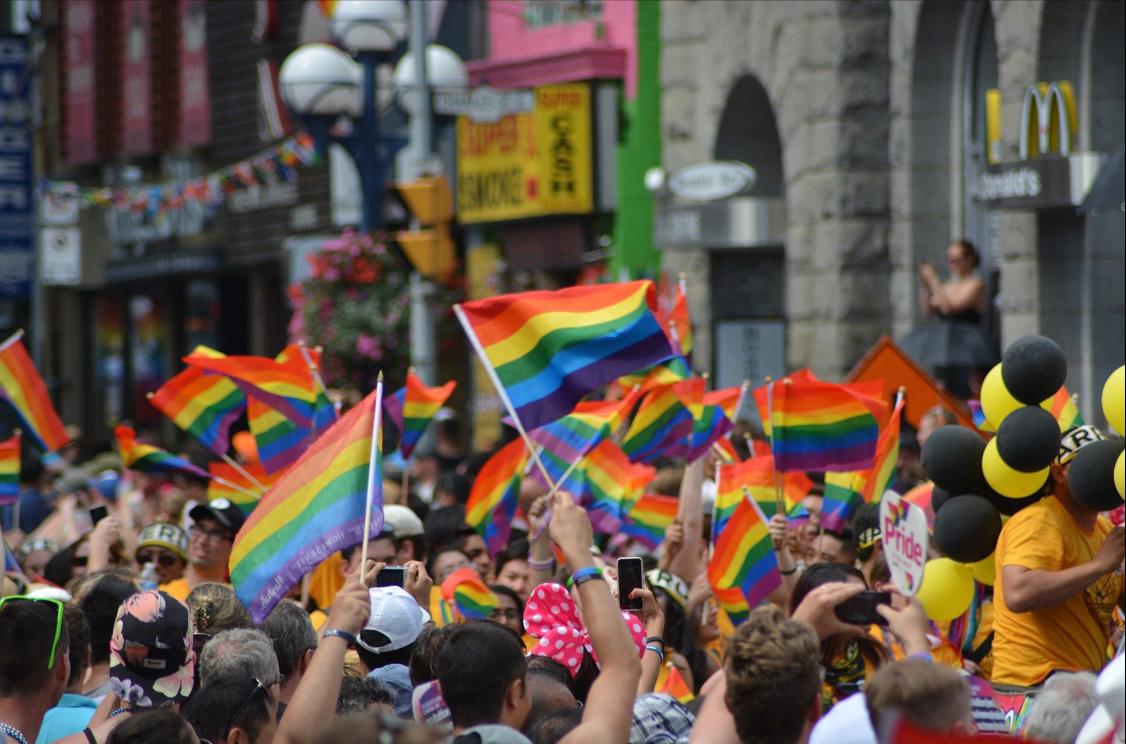 ---
The origin of the license-free photo is: https://pixabay.com/de/photos/gay-gay-pride-pride-parade-stolz-1453594 Thanks to the folks from Pixabay!
The English text is the original version of Arezu's article. Scroll, please, to read it in the language you prefer.
We would be very happy to receive your comments. If you are a trait d'union staff member, you may use the comment and discussion function next to the article. Otherwise, you can send your comment to contributions@traitdunion.online.
There you can also send your own ideas and contributions to our multi-year topic: "Preserve, change, or let things slide: What moves young people and what do they move in the 2020s?"
In this framework we would like to focus in the project year 2021/22 on the following subject in particular: "The fight against discrimination - and the discussion about how".
You can find suggestions on topics and forms of presentation here. If you discover passages in the translations for which you have found a better formulation, you are also welcome to send your suggestion to contributions@traitdunion.online. Thanks in advance!
Let's talk Pride!
"Love is love" probably is the most common phrase used during Pride month. Pure love doesn't differentiate between gender or sex, love can't actively be chosen: it cannot be controlled or influenced. Therefore, it can't ever be labeled as "wrong".
New York, June 28th, 1970 was the first-ever Pride parade. (CNN: The first gay pride parades, 2016). Organized by queer activists, facing an overwhelming amount of - normalized - homophobia and transphobia, to recall the events of Stonewall the year before. However, beforehand there have been protests and demonstrations for gay rights - even with non-queer allies. Since Stonewall, June has been the month of liberation and acceptance. This background knowledge is vital in order to properly understand the history of the LGBTQIAP+ community and its long, rough, and heartbreaking path to semi-acceptance. Semi, because the fight for equality and equity hasn't ended yet but progress has been made.
Colors. Rainbows. Good music. Good vibes. Lots of alcohol. That's the beloved Pride month, as well as the CSD - the abbreviation for the worldly known Christopher Street Day. In celebration of the LGBTQIAP+ community, millions of people all around the world go on the streets each year. It seems as if that is the only proper time the highly targeted community can celebrate their identities without cis and straight people telling them they are making their sexuality or gender identity "their whole personality".
It *seems* like that but it's not entirely true, unfortunately. The community still faces heavy discrimination and persecution around the world - yes, even here in the west - and can't seem to catch a break. In 2020 the German police had counted 578 hate crimes against members of the marginalized group. That is almost twice the amount which was recorded only 2 years earlier, in 2018 (Statista: Anzahl der polizeilich erfassten Delikte gegen die sexuelle Orientierung in Deutschland¹ von 2001 bis 2020).
Accordingly, it is not surprising that June is a sensitive time for the gay and trans community, regardless of how colorful and loud the parades and people are. It is a form of self-expression that should be granted all year long and not just during one dedicated month. We need to start celebrating our diversity and celebrating love every single day. Pride is exactly what its name suggests: to be proud of who you are, always and unconditionally.
Lasst uns über Pride reden!
"Liebe ist Liebe" ist wahrscheinlich der häufigste Satz, der während des Pride-Monats Verwendung findet. Reine Liebe macht keinen Unterschied zwischen Geschlecht oder Sex, Liebe kann nicht aktiv gewählt werden: Sie kann nicht kontrolliert oder beeinflusst werden. Daher kann sie auch nicht als "falsch" bezeichnet werden.
Am 28. Juni 1970 fand in New York die allererste Pride-Parade statt. (CNN: The first gay pride parades, 2016). Sie wurde von Queer-Aktivisten organisiert, die mit einer überwältigenden Menge an - normalisierter - Homophobie und Transphobie konfrontiert waren, um an die Ereignisse von Stonewall im Jahr zuvor zu erinnern. Doch schon vorher gab es Proteste und Demonstrationen für die Rechte von Homosexuellen - auch mit nicht-queeren Verbündeten. Seit Stonewall ist der Juni der Monat der Befreiung und der Akzeptanz. Dieses Hintergrundwissen ist wichtig, um die Geschichte der LGBTQIAP+-Community und ihren langen, harten und herzzerreißenden Weg zur Halb-Akzeptanz richtig zu verstehen. "Halb-", denn der Kampf um Gleichberechtigung und Gleichstellung ist noch nicht zu Ende, aber es wurden Fortschritte gemacht.
Farben. Regenbögen. Gute Musik. Gute Laune. Jede Menge Alkohol. Das ist der geliebte Pride-Monat, ebenso wie der CSD - die Abkürzung für den weltbekannten Christopher Street Day. Um die LGBTQIAP+-Community zu feiern, gehen jedes Jahr Millionen von Menschen auf der ganzen Welt auf die Straße. Es scheint, als sei dies der einzige richtige Zeitpunkt, an dem die stark betroffene Gemeinschaft ihre Identität feiern kann, ohne dass Cis-Menschen und Heterosexuelle ihnen sagen, dass sie ihre Sexualität oder Geschlechtsidentität zu "ihrer ganzen Persönlichkeit" machen.
Es *scheint* so, aber das ist leider nicht ganz wahr. Die Gemeinschaft wird nach wie vor auf der ganzen Welt - ja, sogar hier im Westen - mit schwerer Diskriminierung und Verfolgung konfrontiert und scheint keine Ruhe zu finden. Im Jahr 2020 zählte die deutsche Polizei 578 Hassverbrechen gegen Angehörige der Randgruppe. Das ist fast doppelt so viel, wie nur 2 Jahre zuvor, im Jahr 2018, registriert wurde (Statistik: Anzahl der polizeilich erfassten Delikte gegen die sexuelle Orientierung in Deutschland von 2001 bis 2020).
Daher ist es nicht verwunderlich, dass der Juni für die Schwulen- und Trans-Community eine sensible Zeit ist, unabhängig davon, wie bunt und laut die Paraden und Menschen sind. Es ist eine Form der Selbstdarstellung, die das ganze Jahr über gewährt werden sollte und nicht nur während eines bestimmten Monats. Wir müssen anfangen, unsere Vielfalt zu feiern und die Liebe jeden Tag zu zelebrieren. Pride ist genau das, was der Name sagt: stolz darauf zu sein, wer man ist, immer und bedingungslos.
Parliamo di Pride!
"L`amore è amore" è probabilmente la frase più usata durante il mese di Pride. L`amore puro non fa differenza di genere o di sesso, l`amore non può essere scelto attivamente: Non può essere controllato o influenzato. Pertanto, non può essere chiamato "sbagliato".
Il 28 giugno 1970, la prima parata Pride ha avuto luogo a New York. (CNN: Le prime parate del gay pride, 2016). È stato organizzato da attivisti queer che hanno affrontato una quantità schiacciante di omofobia e transfobia - normalizzata - per commemorare gli eventi di Stonewall dell`anno precedente. Ma anche prima c`erano proteste e manifestazioni per i diritti dei gay - anche con alleati non queer. Dopo Stonewall, giugno è il mese della liberazione e dell`accettazione. Questa conoscenza di base è importante per comprendere correttamente la storia della comunità LGBTQIAP+ e il suo lungo, duro e straziante viaggio verso la semi-accettazione. "Mezzo" perché la lotta per la parità di diritti e l`uguaglianza non è finita, ma il progresso è stato fatto.
Colori. Arcobaleni. Buona musica. Buon umore. Molto, molto alcol. Questo è l`amato mese del Pride, così come il CSD - l`abbreviazione del famoso Christopher Street Day. Per celebrare la comunità LGBTQIAP+, milioni di persone in tutto il mondo scendono in strada ogni anno. Sembra che questo sia l`unico momento giusto per la comunità gravemente colpita per celebrare la propria identità senza che persone cis ed eterosessuali dicano loro che stanno facendo della loro sessualità o identità di genere "la loro intera personalità".
*Sembra* che sia così, ma purtroppo non è del tutto vero. La comunità continua ad affrontare gravi discriminazioni e persecuzioni in tutto il mondo - sì, anche qui in Occidente - e sembra non trovare pace. Nel 2020, la polizia tedesca ha contato 578 crimini d`odio contro membri del gruppo emarginato. Questo è quasi il doppio di quanto è stato registrato solo 2 anni prima, nel 2018 (Statistiche: Numero di reati contro l`orientamento sessuale registrati dalla polizia in Germania dal 2001 al 2020).
Pertanto, non è sorprendente che giugno sia un momento delicato per la comunità gay e trans, indipendentemente da quanto siano colorate e rumorose le parate e le persone. È una forma di espressione di sé che dovrebbe essere concessa tutto l`anno, non solo durante un mese specifico. Dobbiamo iniziare a celebrare la nostra diversità e festeggiare l`amore ogni giorno. Pride è esattamente quello che dice il nome: essere orgogliosi di ciò che si è, sempre e incondizionatamente.
Parlons de Pride !
« L'amour est l'amour » est probablement la phrase la plus courante utilisée pendant le mois de Pride. L`amour pur ne fait aucune différence entre le genre ou le sexe, l`amour ne peut être choisi activement : Il ne peut être ni contrôlé ni influencé. Par conséquent, elle ne peut être qualifiée de « mauvaise ».
Le 28 juin 1970, la toute première parade de Pride a eu lieu à New York. (CNN : Les premiers défilés de la gay pride, 2016). Elle a été organisée par des militants queers qui ont dû faire face à une quantité écrasante d`homophobie et de transphobie - normalisées - pour commémorer les événements de Stonewall l`année précédente. Mais même avant cela, il y avait des protestations et des manifestations pour les droits des homosexuels - même avec des alliés non queers. Depuis Stonewall, juin est le mois de la libération et de l`acceptation. Ces connaissances de base sont importantes pour bien comprendre l`histoire de la communauté LGBTQIAP+ et son parcours long, difficile et déchirant vers une semi-acceptation. « A moitié » parce que la lutte pour l`égalité des droits et l`égalité n`est pas terminée, mais des progrès ont été réalisés.
Couleurs. Des arcs-en-ciel. Bonne musique. Bonne humeur. Beaucoup, beaucoup d`alcool. C`est le mois des fiertés bien-aimé, ainsi que le CSD - l`abréviation du Christopher Street Day, célèbre dans le monde entier. Pour célébrer la communauté LGBTQIAP+, des millions de personnes dans le monde descendent dans la rue chaque année. Il semble que ce soit le seul vrai moment où la communauté fortement touchée peut célébrer son identité sans que les cis et les hétérosexuels ne leur disent qu`ils font de leur sexualité ou de leur identité de genre « leur tout ».
C`est ce qu`il *semble*, mais ce n`est malheureusement pas tout à fait vrai. La communauté continue d`être confrontée à de graves discriminations et persécutions dans le monde entier - oui, même ici en Occident - et ne semble pas trouver la paix. En 2020, la police allemande a recensé 578 crimes haineux contre des membres du groupe marginalisé. C`est presque deux fois plus que ce qui a été enregistré à peine deux ans plus tôt, en 2018 (Statistiques : Nombre d`infractions contre l`orientation sexuelle enregistrées par la police en Allemagne de 2001 à 2020).
Il n`est donc pas surprenant que le mois de juin soit une période sensible pour la communauté gay et transgenre, même si les défilés et les gens sont bruyants et colorés. Il s`agit d`une forme d`expression personnelle qui devrait être accordée tout au long de l`année, et pas seulement pendant un mois spécifique. Nous devons commencer à célébrer notre diversité et à célébrer l`amour tous les jours. Pride est exactement ce que son nom indique : être fier de ce que l`on est, toujours et inconditionnellement.
¡Hablemos de Pride!
"El amor es el amor" es probablemente la frase más utilizada durante el mes de Pride. El amor puro no distingue ni el género ni el sexo, el amor no se puede elegir activamente: No se puede controlar ni influenciar. Por lo tanto, no se puede llamar "incorrecto".
El 28 de junio de 1970 tuvo lugar el primer desfile de Pride en Nueva York. (CNN: Los primeros desfiles del orgullo gay, 2016). Fue organizada por activistas queer que se enfrentaron a una cantidad abrumadora de homofobia y transfobia -normalizada- para conmemorar los acontecimientos de Stonewall del año anterior. Pero incluso antes de eso, hubo protestas y manifestaciones a favor de los derechos de los homosexuales, incluso con aliados no queer. Desde Stonewall, junio es el mes de la liberación y la aceptación. Este conocimiento de fondo es importante para comprender adecuadamente la historia de la comunidad LGBTQIAP+ y su largo, duro y desgarrador camino hacia la semiaceptación. "A medias" porque la lucha por la igualdad de derechos y la equidad no ha terminado, pero se ha avanzado.
Colores. Arco iris. Buena música. Buen humor. Mucho, mucho alcohol. Este es el querido mes del Orgullo, así como el CSD, la abreviatura del mundialmente famoso Christopher Street Day. Para celebrar la comunidad LGBTQIAP+, millones de personas de todo el mundo salen a la calle cada año. Parece que este es el único momento real en el que la comunidad fuertemente afectada puede celebrar su identidad sin que las personas cis y heterosexuales les digan que hacen de su sexualidad o identidad de género "todo lo suyo".
Eso es lo que *parece*, pero desgraciadamente no es del todo cierto. La comunidad sigue sufriendo una grave discriminación y persecución en todo el mundo -sí, incluso aquí en Occidente- y parece no encontrar la paz. En 2020, la policía alemana contabilizó 578 delitos de odio contra miembros del grupo marginado. Eso es casi el doble de lo que se registró apenas 2 años antes, en 2018 (Estadísticas: Número de delitos contra la orientación sexual registrados por la policía en Alemania de 2001 a 2020).
Por lo tanto, no es de extrañar que el mes de junio sea un momento delicado para la comunidad gay y trans, independientemente de lo coloridos y ruidosos que sean los desfiles y la gente. Es una forma de autoexpresión que debería concederse durante todo el año, no sólo durante un mes concreto. Tenemos que empezar a celebrar nuestra diversidad y celebrar el amor cada día. Pride es exactamente lo que dice su nombre: estar orgulloso de lo que uno es, siempre y sin condiciones.